Tips for Selecting the Best Domain Name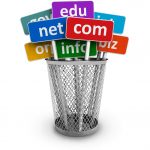 The right domain name is vital to the success of your website. You have to select the right domain the first time because switching to a different one will be a hassle and will even end up hurting your search rankings and your brand. But how do you select the perfect domain name? Here are the best tools and tips you can use to find that perfect name for your website.
Stick with the .com
The domain name extensions are innumerable. They range from the .com, .org and .net to the niche extensions such as .pizza, .blog and .photography. While it may seem clever to go with the unknown extensions, it is always a great idea to stick with .com. This is the most credible and established domain name extension. The newer extensions like .ninja and .pizza are somewhat untrustworthy. The .com extension is also the most memorable and people type it intuitively. If you select John.photography as your domain name, you have to account for the fact that some users will type John.photography.com and they will end in an error page. Stick with .com.
Include keywords in the domain name
When your domain name has a keyword, you will be telling search engines what your site is all about. Paired with high quality content and a great user experience, keywords in the domain name will boost your Google ranking. If your keyword is already taken, don't be afraid to be creative by combing keywords with other words.
Keep it short
For the domain name to be easy to remember and type, you have to keep it short. The best domain name is less than 15 characters long. Long domain names are hard to remember and leave a huge room for users to enter typos.
Make it easy to spell and pronounce
Your domain name needs to be easy to share when writing and speaking. That way when shared in person, there will be no misunderstanding. An easy to spell and pronounce domain name will also come in handy when you want to use it to create your professional business email address.
Don't use hyphens
When a preferred .com domain name is taken, people use hyphens to make their domain unique. Often times, hyphens are considered as a sign of spam domains. Hyphenated domain names are also prone to typos.
Avoid using double letters
A good example is Newssetup.com. Such a domain name will be prone to typos. Typos will cause you to lose traffic. Avoiding the double letters will help make your domain easy to remember and type.
Research the domain name
A trademark search will help know if there is another business that has already registered the domain name you are after. Google search will help check the domain name's availability. A matching or similar name will cause confusion and legal implications.
These tips will help registered a great domain name. Another important thing you should do is to make use of domain name generators for clever ideas. You also need to register the right domain name fast before it is scooped up.